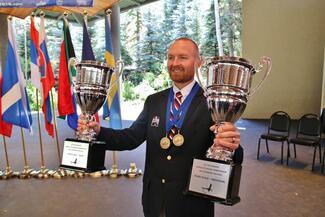 Lance Egan has organized his life around fly fishing: beside his work at Fly Fish Food, he is a flyfishing guide in Utah's rivers that are dear to him and practices the competition at international level, using the modern techniques of Euronymphing. Meet one of the most talented American competitors of his generation :
Texte
Hi Lance ! Can you describe your career for the readers who don't know you ? 
 I started fly fishing in my early teen years (I'm now 40) and do not come from an angling family. Among my parents and 5 siblings I'm the only one who fishes.  My first couple of years of fishing were very limited but from age 16 to present I've strived to spend as much time on the water as possible. I've made my work life revolve around fishing and have been working in fishing tackle shops since the mid 90's. I currently work for Fly Fish Food which is a retail storefront and online fly fishing resource. Our specialty is fly tying, and we ship domestically and overseas packages daily. You can see our offering at http://store.flyfishfood.com
I do a little guiding and try to fish as much as possible.
Competition wise, I've done a range of events but have focused on Fly Fishing Team USA and World Fly Fishing Championships events. In addition to the fips mouche events I've participated in the ESPN Great Outdoor Games, Versus/Outdoor Channel Fly Fishing Masters, Teva Mountain Games, Green River Single Fly and various smaller competition style events. I've been fortunate to have consistent success in most of these events. Highlights include silver and Bronze team, and bronze individual medals at the World Fly Fishing Championships. I'm a 3-time individual National fly fishing champion, one time silver medalist. 2-time ESPN Great Outdoor Games gold medalist. 3-time Green River Single Fly winner, Versus Fly Fishing Masters Team Champion, and Teva Mountain Games champion.  I've learned a lot about fishing from each event and they keep me motivated to continually improve. 
Image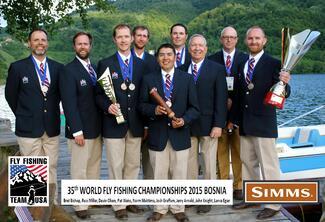 Légende
USA team during the World Flyfishing Championships in Bosnia, 2015
Texte
What do you like in practising fly fishing competition and which place does competition take in your passion ? (it means, do you fish to be a better competitor or do you compete to be a better angler ?)
I compete to become a better angler. Fishing is my passion, and competition continually pushes me to improve. This constant learning makes every day on the water more effective and more fun. With more experience comes increased knowledge, effectiveness and refined technique.  I enjoy each day on the water and always try to find some takeaways to continue my growth as an angler.
Image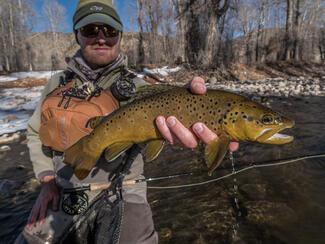 Texte
At the moment, what is the importance of euronymphing in american fly fishing (in terms of number of anglers comparing to "classic" tecnics) ? is it still quite confidential or well-known ? 
 Euro nymphing has finally taken root in the USA and is steadily growing. That said, it is still used very little by anglers in our country.  Like all new techniques it has been met with some speculation, misunderstanding and disdain. Though we'll never have every USA fly fisher learning the technique, Euro nymphing is definitely becoming more mainstream and is gaining ground. Gilbert Rowley, Devin Olsen and I teamed up to create some entertaining, instructional videos to help dispel some of the myths of Euro nymphing in the USA and to introduce the technique and its simple effectiveness to our fellow fly fishers. The videos are:  Modern Nymphing - European Inspired Techniques. And, Modern Nymphing Elevated - Beyond The Basics. Our videos have been well received and are helping to introduce many Americans to the technique. The videos are available via DVD from various shops and online sellers or for instant digital download on Vimeo.com
Texte
What are the most used nymphing rods in USA ? which are your favourite ones ?
I'm unsure of the most used nymphing rods in the USA, but I see Sage ESN HD rods the most among my peers. Cortland has provided some great entry level and mid price point specialty nymphing rods that have been very popular as have Orvis, Echo and many other rod makers. My favorites include the 10' 3 weight Sage ESN HD, Cortland 10.5' 3 weight MK II, and 10' 3 weight Orvis Recon.
Image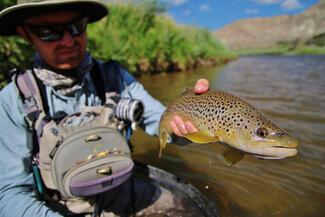 Texte
Can you resume us in few words the way in which competitions operate in America ?
Fly Fishing Team USA holds regional and national competitions at which anglers accrue points based on their individual finishes. Our Team consists of 15 members and to make the team of 15 you simply have to be one of the top 15 points earners At the end of each competition cycle. Cycles have ranged from 1 to 2 years. To see the entire team selection document visit :  http://www.flyfishingteamusa.com/assets/fftusa_2016-2017_selection_process.pdf
Texte
Can you present us some of your "Egan's special" flies ?
Image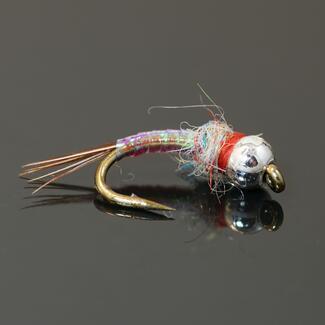 Texte
Of course, these are 4 Egan's Special flies : 
The Rainbow Warrior was my first commercially available fly pattern, and is still my best seller. Despite its flashy looks, it works well for selective tailwater Trout, and of course for eager freestone/pocketwater fish too.  This pattern is easy to tie and very effective.  The Warrior's flashy body and red thread hot spot don't imitate anything in particular, but that is a good thing.  Fish can mistake it for many food forms.  I find it works well in waterways with sow bugs, scuds, midge pupae, and even as a chironomid imitation in lakes ! 
Image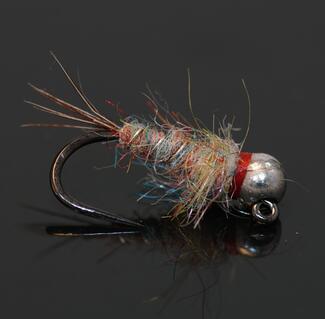 Texte
The Tungsten Surveyor is one of my lesser known patterns, which I find interesting since the pattern is one of my more productive flies.  It just works. The Surveyor is a product of my love of Wapsi, rainbow sow scud dubbing and the hares ear.  When I found fish really liked the Rainbow Warrior, another of my confidence flies was a bead head hares ear.  With the success of the Warrior, I couldn't help but wonder how the fish would react to a hares ear tied with rainbow sow scud dubbing.  Naturally, I started tinkering with a nymph similar to a bead head hares ear by substituting the hares mask dubbing for rainbow sow scud dub.  A few versions later I had changed bead colors (gold to silver), adapted ribbing materials (gold tinsel to silver wire) and borrowed red thread, pheasant tail and pearl flash back from the Rainbow Warrior.  The result is the Tungsten Surveyor !
Image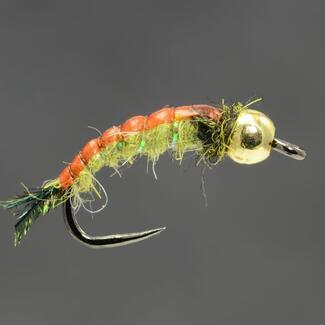 Texte
The GTi Caddis is more imitative than most of my patterns.  It represents a hydropsychidae larvae, commonly called "net builder" Caddis.  Though a bit cheesy, GTi stands for Go-To imitation.  This pattern truly is my go-to when wanting a weighted fly that closely imitates a favored large food form of Trout.  One thing you'll notice when comparing real Hydropsyche to my imitation is that the back on the GTi does not necessarily match any of the color combinations of the real insect.  This isn't by chance.  I've spent a fair bit of time tying and trying Caddis larva imitations and I've come to learn a bit about what fish prefer in the process.  For reasons unknown to me, Trout consistently prefer this fly when tied with a shellback color that contrasts the underbody.  I've tried many imitations that more closely represent the actual colors of Caddis larvae, but the fish do not take them as well.  There is something magical about the contrasting colors. One other thing about this and other weighted flies.  Keep them thin.  It's easy to make the body of weighted nymphs obese due to the layer of lead wire covering much of the hook.  Use dubbing materials that allow you to create a very thin dubbing noodle !
Image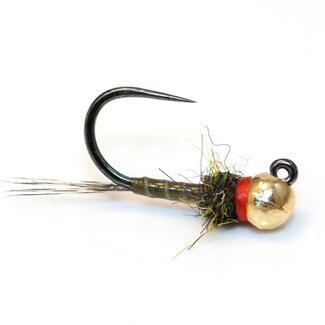 Texte
The Iron Lotus is a quick sinking imitation of a mayfly nymph.  Its slick, coated body aids in the sink rate, its subtly segmented body adds realism, its sleek silhouette matches the naturals and its gold tungsten bead and subtle red thread hotspot give just enough flash and color contrast to pique the interest of feeding Trout.  If you are a fan of dumb humor movies (like me), then you likely know where this fly got its name.  Shortly after designing this fly the movie, "Blades of Glory", came out.  My team watched "Blades of Glory" several nights while tying flies leading up to a National Fly Fishing Championship.  In the movie was a dangerous, yet wildly effective (if executed properly) skating move called the "fabled iron lotus".  I thought the name was a catchy, and kind of summed up this pattern so I borrowed it for this fly ! 
Texte
Your country offers incredible opportunities to those interested in dry flyfishing and entomology, is that your case?
I thoroughly enjoy dry fly fishing as well as many other fly fishing techniques and find a basic understanding of entomology to be very helpful whether Euro nymphing, dry fly fishing or even streamer fishing. Though I am not incredibly knowledgeable regarding entomology, I know enough to identify basic aquatic insect species and have learned many of their characteristics which help me decipher what to fish, and how to fish it. That said, it is quite common for me to catch high numbers of fish on attractor style nymphs and dry flies that do not directly imitate anything in the Trout's environment. More often than not, attractors patterns out produce exact imitations.
Image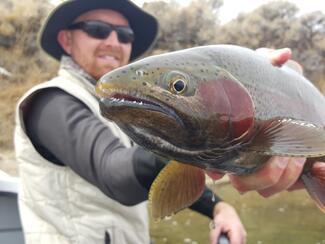 Image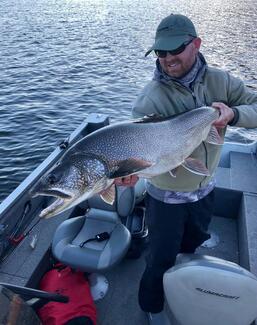 Texte
I've seen that you enjoy lake trout too : in France, we have few high moutain lakes with lake trouts but big ones are very infrequent and this fish remain mysterious : why and how do you fish them ?
Lake Trout (Salvelinus Namaycush) are a recent interest of mine. We have 3 lakes in my area that grow large lakers. They are a very difficult fish to catch on the fly because they spend most of the year in very deep water, making them hard to reach with fly tackle. I enjoy them because they are quite a challenge, and because very little is known about catching them on fly rods so learning their habits and preferences takes time on the water since there are no books or videos with instructions. We catch most of them on large streamers that imitate rainbow trout. We use sinking lines and cast and retrieve from a drifting boat, often with a drogue attached to the boat to slow down our drift. It is a lot of work, and requires long days of fishing with very little catching, but when it comes together you can land the largest Salmonid of your life !
Image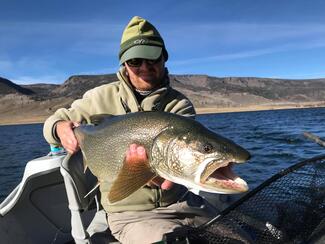 Texte
What are your present dreams in fly fishing ?
My goals in fly fishing are to learn as much as possible, share my angling passion with others, enjoy lots of time on the water and catch new species in new waters !
Thank you very much Lance, see you soon ! 
Image