Translated from French by Benjamin KERTHE.
Julien Daguillanes won his first title in 1995: France champion in the Minime category.
The beginning of a great career since he took part at his first world championship only 10 years after. And for culmination, in 2016, he won the golden medal at the World Championships (individual ranking), in Colorado (USA). Last December, he announced his retirement for international competitions, while he is only 35 years old. Nevertheless, his passion for flyfishing remains the same. You will discover through this interview, a real champion, those that are very accessible and nice.
Texte
Hi Julien, you announced last winter your retreat for international competitions after 20 years at the top level. What has been motivating you during all these years and what did influence your choice ?
Image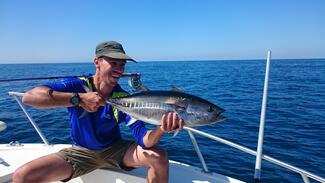 Texte
They are several things that kept me motivated through all those years. The first one would be my appetite for the competition. It led me to measure myself against other people, to evolve and learn by always questioning myself. Competition is a great way to progress. Without it, changes in equipment and techniques would not be at the current stage. The second is the pleasure to meet friends at every competitions or outside. We must not forget that this is "only fishing".
This decision to stop the international competitions has been very hard to take but well thought out though. I did not do it on a simple whim. I think it started after my individual title in Colorado, which cut me off for a while! It's surprising, I did not expect this reaction from me. I think I felt like at the end of my path, like an achievement, at the end of the objectives I set to myself. I kept going in 2017 in France team with a title by team (and a place of 4th more than honorable in individual). The motivation during the competition was there but different. I told myself to stop the , enjoyed a little more fishing moments as a "pleasure", because it must be said, to be on the top level for years, force to sacrifice hours at the water's edge to train rather than have fun. I spent my fishing time testing outlets, hooks, ... The hardest is to "leave" the team's friends, because over the years they became much more than "France team members ».
I also thought it was better to stop on positive results than to wait for a drop. We must be aware that over the years, the results inevitably decrease, it is normal. It has been 13 years that I was in Team France, it was time to give my place to the "young".
Texte
With the hindsight that you have accumulated, what do you think are the main criteria for success in today's fly fishing competitions ?
There are several criteria, the first is, as mentioned before, motivation, without it, nothing is possible. Then it takes a lot of experience to adapt quickly to the fishing conditions. Finally, a good technical background and many hours along the banks to have the automatisms for the competition's day. Do not forget to have a minimum of fitness. To sum up, you have to be sporty !!!
I know you are very attached to your land of Bigorre: you've seen plenty of different waters during these years of competition, what makes you always remained faithful to the Central Pyrenees and can you envy Truites & Cie readers to discover this territory ?
We are really good in Bigorre, not far from the ocean, the mountains are next door, 1st class rivers everywhere, high altitude lakes, wild trouts, water in quantity all year, and we have Lourdes nearby to burn a candle !!!
We have all kinds of environments, small streams, big rivers, resurgences, fast rivers, clear water, all we need to satisfy the trout fishermen.
Image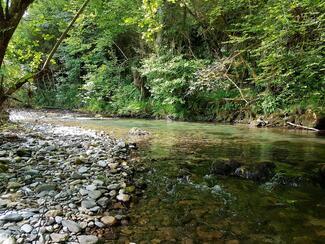 Légende
La Bigorre area, paradise of brown trout angler
Texte
In recent years, with the advent of modern nymphing techniques, some purist flyfishermen have disassociated themselves from this trend and regret the convergence between fly fishing and bait fishing. Some push to say that the competitors "only know how to cast anvils" ... What is your personal point of view ?
Image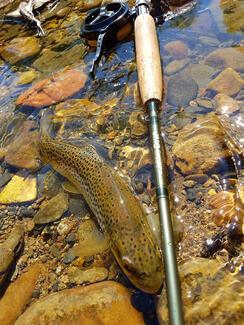 Texte
Fortunately we did not only "cast anvils" in France at international competitions, otherwise France would not have all these titles! Using dry and dry / nymph tandem has an important part of success during competitions, but it is obvious that most of the time nymph fishing is the most used, and it's normal, when we know that a trout mainly feeds under water.
From one technic to another, there are always commun points and you can always compare fishing with fly, baits, lures ... ect.
Is a fisherman fishing in dry + dropper nymph isn't a waggler fisherman? A bait fisherman using the nymph instead of the bait is not a fly fisherman repressed ??? We can find similarities between all fisheries, and the main thing is to have fun along the rivers.
Texte
I have heard that you are turning more and more towards predator fishing and in particular zander in vertical: what attracts you in this fishing, at first sight quite far from your "first love" ?
It's been a few winters since I fish predators with lures (especially zander) and I really enjoy it, it's completely new to me (even if I already "fished" a few years ago with natural baits. I find this fishing very captivating and very technical in the approach, although it is of course not as "fine" as the fly fishing. The zander is an exciting fish in its search. It is always necessary to question, to find the best lure at the right moment, the good animation, approaches that remind me of stock lakes fishing. Coming with fly fishing background is, I think, an advantage to progress and understand faster the behaviour of predators. Unfortunately the "budget" of this fishery is huge if you want to start competitions, expenses have nothing to do with those of the fly (boat, sonar etc) ... Besides, I take this opportunity to make an appeal to readers, if anyone has a bass boat he does not use, do not hesitate to contact me !!!
Image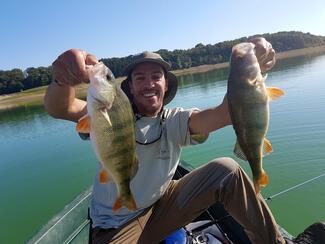 Texte
Your best memory in competition ?
I think I will dissociate the best memories on a national and international competition.
In national competition, my best memory is probably a dry action on the Basse Rivière d'Ain. I remember the graylings that were rising from time to time on a flat, I fished downstream and I saw them go up to take my CDC when suddenly, it is a 50 cm trout which came to take my dry, a real treat.
Image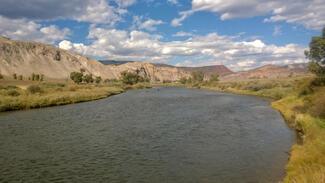 Légende
Julien reach during his last competition day in Colorado (2016)
Texte
In international competition, I think my best memory was in the last round on the Colorado River (2016). The section was tough, wide and linear river, I had 6 fish 40 minutes from the end and I knew that it would not be enough to win individual. While I could have done the middle of the river with a streamer or wet fly, I told myself that I should go back to the beginning of my section because the opposite bank had just passed in the shadows. Just arrived, there were 2 fish rising! I managed to finish the round with 11 fish in the last 35 minutes. My intuition worked this time ! I have many other memories during international competitions, especially after or before the fishing: for example, the cross of the Blue River by Jean Benoît during the training (nice swim !!!), the Ping Pong tournament in Slovakia, big trout and landscapes of New Zealand, dry fishing with Jean Guillaume in the Czech Republic, mosquitoes from Finland, ... etc.
Image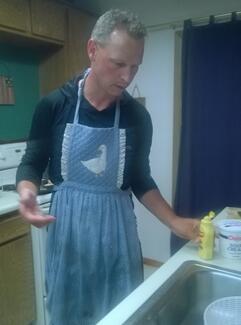 Texte
Your reputation is to be a really cool, easy going and approachable guy (I have rarely read so much praise of kindness about a fisherman's personality), we will try to throw this reputation a bit: can you give us a little joke about one of the France team member's that I leave you the care to choose ?
This is a "disgusting" question, I hesitate to ask for a joker!
But, I will make an exception! Sorry Jean Gui, but this time, it will be your turn, because for others, it would have been much harder! You want to please Jean Guillaume Mathieu: put him in a kitchen or with a vacuum cleaner in his hand, he loves it! In fact, I'm not sure that this is really a "joke" ... because I'm sure many ladies would love to have a man in the kitchen and household fanatic !
Thank you very much Julien and happy 2018 season !
Image