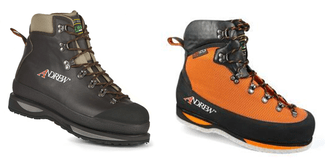 You already know, at Trout & co, we particularly like objectivity in any circumstances. And when it is a matter of wading gear, we decided to test everything on the long run to push its limit. We open this series of review with the Wading Boots Creek and Fly series from the brand Andrew, made in Montebelluna in the North of Italia.
Texte
Andrew Creek's static test
The Andrew boots are all made in the house of the business in Italia according to the ancestral and artisanal processes. The company counts more than 40 years in the boot-manufacturing industry and builds trekking and mountaineering shoes as well as security, forestry and obviously wading boots.
They are 4 types of tread for the Andrews wading boots:
Vibram without nail
Vibram with nails
Felt sole without nail
Felt sole with nails
Image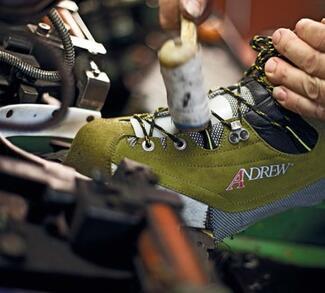 Image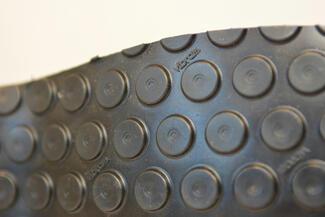 Image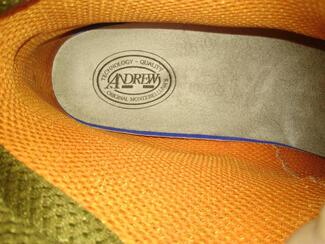 Texte
Regarding the Creek, with more than 800 g per shoe, you'll quickly figure that they aren't part of the "ultra-light" category. But they definitely inspire confidence in their solidity at the first look. Once on your foot, the ankle support is firm. Comfort while fishing is really great between the relative softness of the materials, but as mentioned earlier, they are clearly not minimalist shoes.
Two colors are available: grey and orange.
Important information: the indicated size already includes the neoprene bootie of your waders. If you are a size 11 for your casual shoes, you'll need a size 11 for your Andrews. Nice and simple.
Andrew Creek's figures :
Sole smooth after 1000 h fishing
Broken laces after 1200 h
Broken fabric and pebbles could get in after 1800 h of fishing (about 450 session of roughly 4h).
Image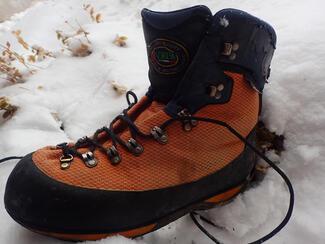 Légende
Outside the shoe after 1200 hours of fishing
Image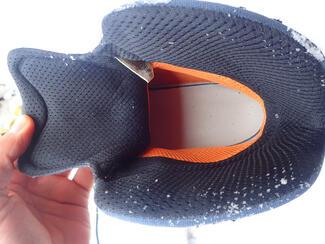 Légende
Inside the shoe after 1200 hours of fishing
Image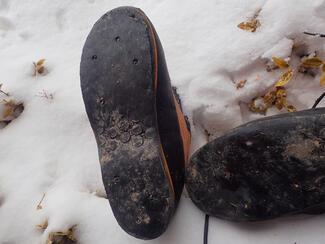 Légende
The sole after 1200 hours of fishing.
Image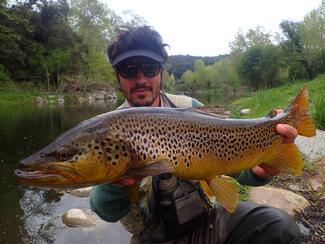 Texte
Simon Scodavolpe's opinion, Trout & Co Editor in Chief about the Andrew Creek :
"It has been 4 seasons since I bought my Andrew Creek size 11 with a Vibram sole (my everyday shoes are usually size 11) with about 100 fishing days per year. I choose Vibram because I mostly fish rocky bed and mountainous rivers, and most of my fishing time is spent in the water. My favourite spots also require long walks to approach. The least I can say is that I am definitely not an example when we talk about the care to the gear I use. What I mean is that the storage conditions in particular are rather disastrous. I no longer count the freeze-thaw episodes that the fabric had to undergo. It's even worse if you consider that in winter in my hometown, the trunk of my car sees temperatures around minus 10 quite often. Well, I never had to put anything on the boots and here they are."
Image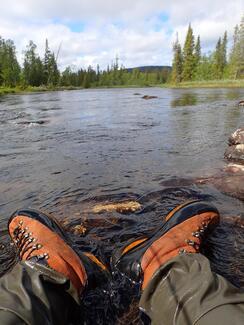 Légende
The Creek followed the Editor in Chief up to Lapland…
Image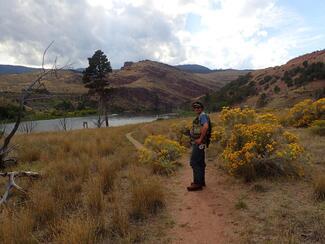 Légende
Along the Green River (Utah)
Texte
"Those are the pictures of my Andrew Creek after roughly 1700-1800 hours of fishing. I had to change the sole after about 1200 hours of fishing (approximate figures). Two or three sessions ago, rocks have been able to get in which marked their official retirement. I guess we can tell that with a normal and a little bit more careful usage, those shoes would have reached 2000 hours of fishing. I can only recommend them to all those who desire gears that will be solid and last long. But it is also a pair of boots for all the Europeans who care about their carbon footprint. Andrew boots are not made in the US or China, but 100% made in Italia. Finally, if you fish very often and don't want to buy brand new wading boots every season, the Andrew is your best choice on the market."
Image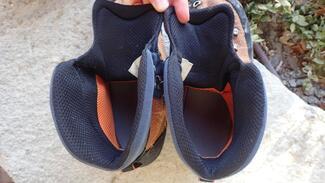 Légende
Inside the shoe after about 1800 hours of fishing
Image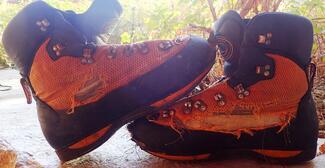 Légende
Outside the shoe, interior side after 1800h
Image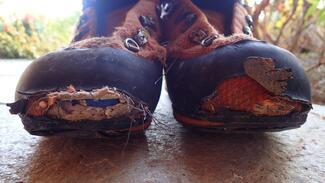 Légende
Whole on the front of the shoes after 1800h
Texte
Andrew Fly's static test
The Fly model is different from the Creek. They are made of leather and slightly heavier. A size 11 shoe weights about 900 g.
After comparison of the technical characteristics and experiences relative to both pairs of Andrews, it seems that comfort is equal in each model. The Creek wading boots are slightly lighter and soft (about 100 g per size 11 shoes) because of their conception in fabric, but the durability is better on the Fly. Nobody yet in our circle of friends never came to the end of them... Impressive!
In contrary of the Creek, the Fly models' size doesn't include the neoprene bootie. So, if you are size 11, you would need to buy a size 11.5.
Image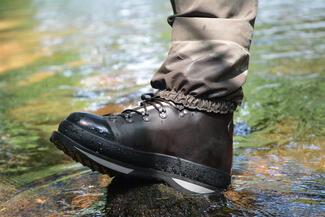 Image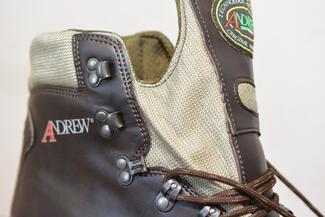 Image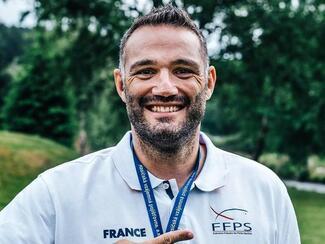 Texte
Lionel Fournier's opinion about the Andrew Fly (2018 France champion and member of the European French fly-fishing team):
"I have been using those shoes for 3 years now. After changing the sole twice (and maybe a third soon), they absolutely didn't move. Those shoes are the most solid I ever had even though I never use any kind of treatment to protect them. My fishing volume is high, I'd say I fish about 15 hours per week, every kind of rivers and streams. I choose the Vibram with nails models for the versatility, durability and also to prevent bringing germs or weeds when I fish outside of the French borders. When I travel to fish, especially in Finland for weeks, I never take any other pair of wading boots with me. I trust my Andrew Fly 100 % and it allows me to travel lighter. They aren't the lightest boots on the market, but they are really comfy and solid. The only consumables part are the laces and the sole, just what you need when you spend so much time the feet in the water."
Image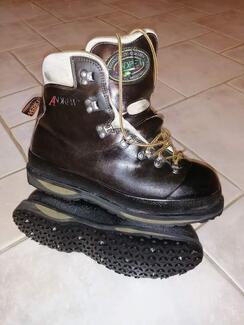 Légende
Shoes after the first resoling