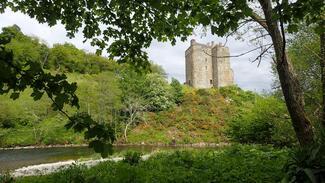 Scotland is worldwide famous for its whiskies, Nessie, its castles (sometimes haunted), the kilt, Harry Potter for the youngest and, for us, fly fishermen, its renowned salmon rivers. But it is also an excellent destination for trout fishing and eventually grayling.
Texte
An easy logistic
With only a few days available and a tiny budget, you can organise a high-quality fishing trip in this wonderful country. Low cost airlines companies like Ryanair or EasyJet offer direct flight to Edinburg from any big city here in France or anywhere else in Europe. A return ticket is usually around the 100 € mark if you book it early enough. It's always a little bit more expensive if you have luggage because your fishing gear won't fit with the carry-on requirements.
Image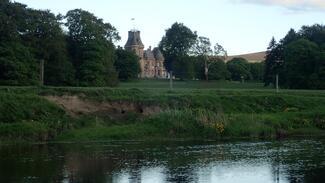 Texte
Rent a car at the airport with a local company is quite cheap, easy and fast. It will only cost you a few dozen euros per week. Offers for accommodation are also very cheap and whether you look for a Bed and Breakfast or a whole apartment with Airbnb, you will have plenty of options available.
Image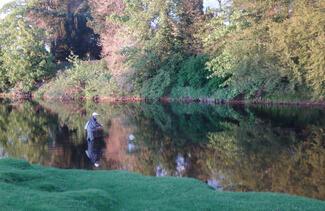 Texte
2 RIVERS NOT TO BE MISSED
If your stay is short, you will need to optimize your fishing time. Cape to the South then, with 2 rivers located within an hours drive from Edinburg's airport: the Clyde River and the Tweed River. You will be able to cast a fly the day of your arrival, and only a couple of hours after you get off the plane! How good is that?
Image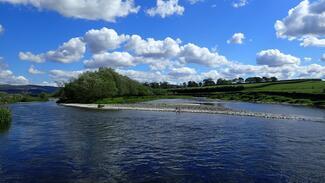 Texte
Fishing in Scotland is very well organised, probably thanks to the salmon fishery. It has been made very easy to get a licence, a detailed map with the different sections and the specific regulations in place. For salmon fishing, we pay a right to fish, often very expensive and dedicated to a very short section of the river. For trout fishing, the licence grant access to the whole fishery of an association, which is in general a few dozen of kilometres of river.
Image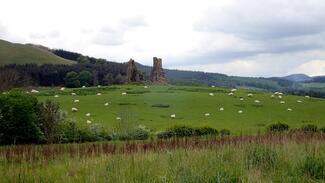 Texte
About the Tweed River, it's the area around Peebles that seems to be the most productive for brown trout fly fishing. All those information are available on the Peebles Shire Trout Fishing website  The daily licence cost only 8£ (less than 9€ thanks to the Brexit) and it is not necessary to book in advance.
You can purchase your fishing licence from the Tontine Hotel, a very charming Scottish establishment, where you are welcomed with smile even if you're not staying here.
Image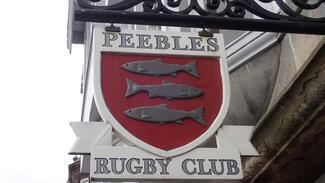 Image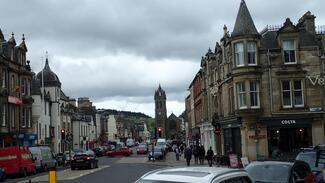 Image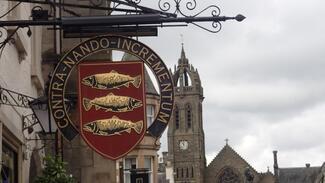 Texte
Take advantage of your time in the area to visit the small town of Peebles. Here, salmons are posted on all the signs. A small detour at the town centre's butcher is highly recommended. It is indeed a very good address to organize your lunches for the next couple of days. I particularly recommend the pie with its melting pastry. Keep in mind that food will not be the most enjoyable part of your journey. Sorry to our Scottish readership, but this is a review from a French point of view. You can also shop for a traditional Scottish meal: haggis. Its ewe's belly stuffed and it's perfect for a family diner when you hit home after the trip.
Image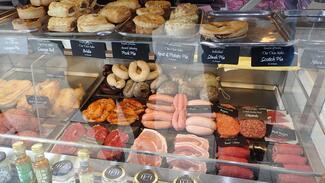 Texte
About the Clyde River, the area around Biggar is by far the most interesting for the fly fisherman. All the useful information can be found on the website of lamingtonfishing. The licence cost £ 10 per day. I personally take it at the general store in the town centre where you can also organise your lunch and snacks for the day. For the foodies, you might want to stop at the Oriental, by the end of the main street going to the river. It's an excellent Asian restaurant, very simple, cheap, where you can enjoy a good diner after an evening rise.
Image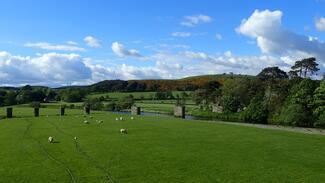 Image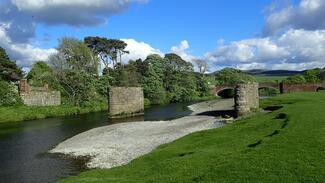 Texte
The sections to fish on the Tweed and Clyde rivers offer very wide range of different spots. From the deep pools to the white waters and including long flat, every fly fisherman will find something that suits his favourite type of fishing. Those low land rivers often flow in the middle of sheep pastures. Sometimes, you will be on the side of a golf course or even at the foot of an ancestral Castle from the Middle Age.
Image
Texte
Real possibilities for dry fly fishing
Most of the fishing is done on the surface here et quite often, the fish are spotted. On the Clyde River, the water is crystal clear. Mayflies hatches are common and numerous, sometimes simultaneous. I remember, last May, on the Clyde River, they were at the same time, 2 different types of mayflies, caddis, stoneflies and even some dipterids! It's not every day or everywhere that you have such a variety of insect hatching at the same time.
Image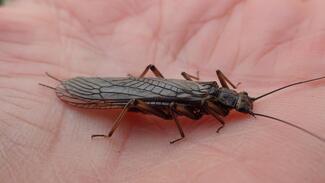 Image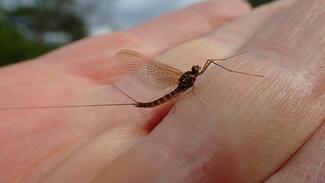 Image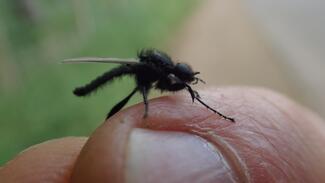 Image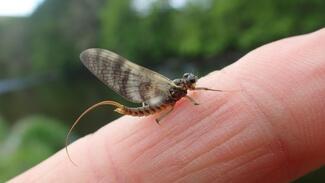 Image
Image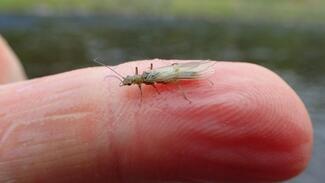 Texte
This wide range of natural food makes the trout very selective though. But isn't it what we are looking for? Beautiful big trout averaging 35 cm with above 50 cm subjects being common make the destination a must do in its fly fisherman's life.
Image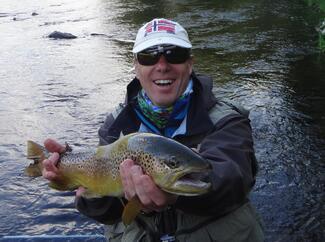 Image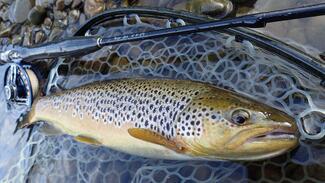 Image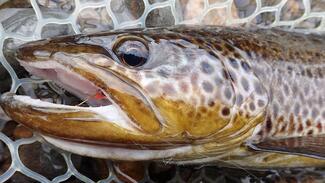 Image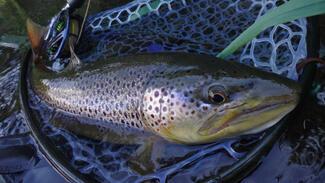 Texte
Catching a grayling is more uncommon in the other hand. But if you nymph the deepest pools of those rivers, you might end up with one of those beautiful fish in the net.
Image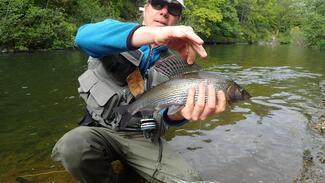 Image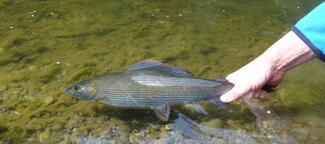 Texte
Fishing pressure is relatively low on the Tweed but quite high on the Clyde. The most famous area is around the Wolfclyde Bridge where the carpark is getting packed with local angler's cars when it gets closer to the evening rise. But the cohabitation between locals and overseas anglers is usually very nice. Scottish are extremely welcoming, courteous and proud to share their fishery with others anglers.
Image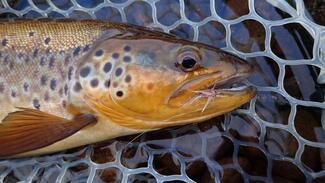 Image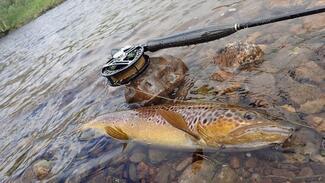 Image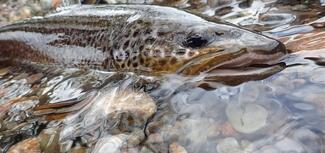 Image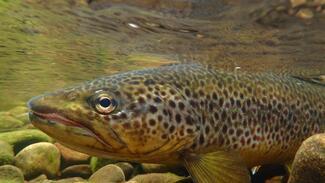 Texte
To conclude, Scotland is a high-quality and very attractive destination for trout fishing. It cumulates many advantages for us Frenches but also for other European citizens : quick to reach, cheap, beautiful trout and landscape, plentiful of hatches, mostly dry fly action, very welcoming locals...
Image